What you need to do first:
Measure the space the cabinet is required for and work out the exterior width, depth and height.
Decide how many guns the cabinet is required to store.
Will you require any ammunition storage space, maybe just a shelf or even an inside lockable top compartment, or left empty for long guns such as muzzleloaders etc?
What side of the cabinet would you like the hinges to be fitted
The colour that you require
Do you require the fixing bolts?
Free Estimate
When you have the answers to the questions left, complete the FREE Estimate Form and we will return a no obligation estimate within two working days.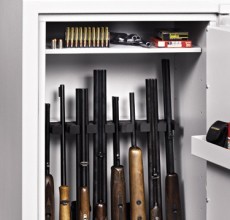 Placing Your Order
When you then decide to purchase one of our made to measure cabinets an order form will be sent to you along with the terms and conditions of your order for you to confirm with a signature. Payment is required in full before the order can be processed we accept payment via cheque or debit/credit card.