Standard High Security Gun Cabinets
Clay Shooters supplies have been established in the security of firearms for many years and our high quality cabinets have the full approval of crime prevention and the sporting public.
Requests and enquiries have resulted in our cabinets being used for various other security needs to include Pharmaceutical companies, Doctor's surgery's, churches, garages and many police authorities throughout the United Kingdom.
All of Clay Shooters Supplies cabinets feature superior specifications to include:-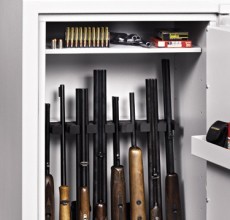 Concealed hinges for extra strength and security
Door strengthening bar
Folded edge for extra strength
Anti-theft, interlocking door. Door inset for added security
Chubb 5 lever anti-theft locks, British Standard 3621 with lock protecting shoe, two keys to each lock, different lock top and bottom
Cabinet lip with anti-lever folded
Drilled ready for fixing, back, floor and sides
Tough 14 SWG. Steel plate (acceptable by local authorities) a lot thicker and stronger than cabinets made of 16 gauge
All cabinets contain a foam base
Foam covered gun racks for barrell protection.
Standard colour of silver-grey hammer finish with a selection of other colours available at extra cost
Storage space for cartridges or alternatively the option of an enclosed lockable cabinet to house ammunition, bolts or magazines to rifles.
| | | |
| --- | --- | --- |
| WxDxH (inches) | Description | Order Code |
|  24 x 18 x 60 |  15\' Gun – Cabinet with lockable top |  SGC1 |
|  24 x 18 x 60 |  15\' Gun – Cabinet with shelf |  SGC2 |
|  24 x 12 x 60 |  9\' Gun – Double door and lockable top cabinet |  SGC3 |
|  24 x 12 x 60 |  9\' Gun – Cabinet with shelf |  SGC4 |
|  24 x 12 x 60 |  9\' Gun – Cabinet with lockable top |  SGC5 |
|  18 x 12 x 60 |  7\' Gun – Cabinet with lockable top |  SGC6 |
|  18 x 12 x 60 |  7\' Gun – Cabinet with shelf |  SGC7 |
|  24 x 12 x 54 |  4\' Gun – Rifle cabinet with lockable compartment and 2 shelves |  SGC8 |
|  18 x 12 x 60 |  Storage cabinet with removable shelves |  SGC9 |
|  12 x 12 x 18 |  Ammunition / Drugs cabinet |  SGC10 |